It has been eight years since the Great East Japan Earthquake happened on 11th March 2011. The deadly earthquake has killed 19,598 people with the effects of its secondary disaster and sadly 2,533 people are still missing as of today. At 2:46 p.m., the same time when the earthquake happened eight years ago, prayers mourned for the victims all over the country. Personally, every year on this day, one football scene comes up to my mind.
(Cited from https://vdata.nikkei.com/prj2/shinsai2018-photo/ )
 Former FC Shalke 04 full-back and Japanese international, Atsuto Uchida was in Germany when he heard the earthquake hit Japan. Knowing the situation of our country, Uchida wrote a message on his shirt and determined to present it with a Bundesliga victory against Frankfurt on the following day. Before the match, by chance, Manuel Neuer noticed Uchida was with the message shirt. Seeing the thought that Uchida had, Neuer firmly promised to win the upcoming match. Surprisingly, Neuer recorded an assist of the winning goal with a long feed from his own half on 85th minute and Shalke sealed a victory as Uchida had wished.
 After the match, however, Uchida wasn't able to step forward over his pleased teammates to show his message because he was actually in the deep sorrow of the disaster. Then, Neuer walked up to Uchida and kindly helped to let him show his message to everyone on the spot. This scene was strongly engraved in our heart and later became a part of TV commercial to support the victims. The message on his shirt was written in both Japanese and German to say:
Dear Everyone in Japan,
Hoping that many victims will be saved.
Let's stand together!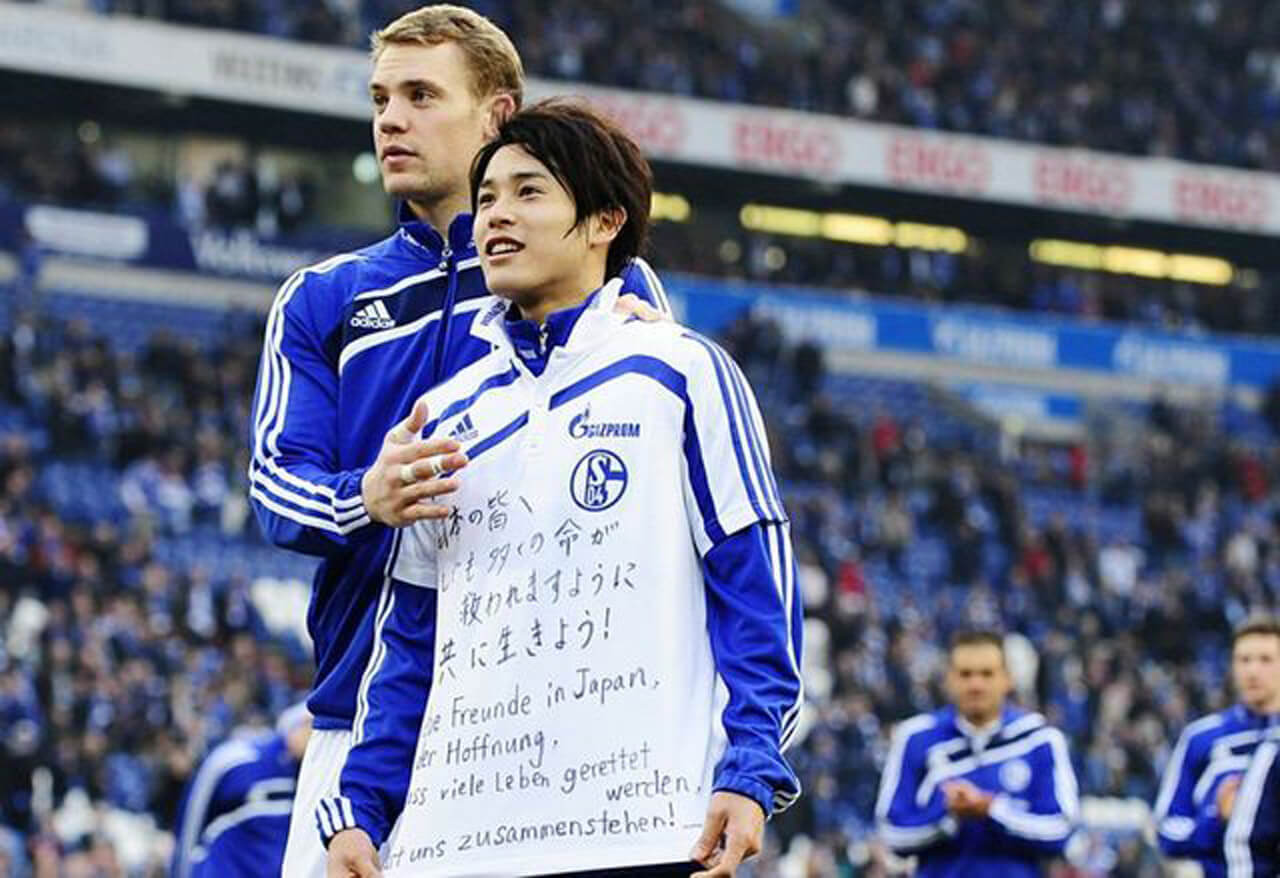 (Cited from https://www.flickr.com/photos/sunpo_life/5519668989/)
 Even now, Japan hasn't recovered perfectly from the damage caused by the earthquake. Or it may never be recovered perfectly. But with the thoughtful consideration to others, just as the greatest goalkeeper showed to Uchida, there's no way that we can't move forward. Danke schön, Neuer!
.
.
.
Thank you very much for reading!
See you next time!